[this post is a work in progress – baby woke up!]
Let me start this post with a screenshot of my Home Assistant home page: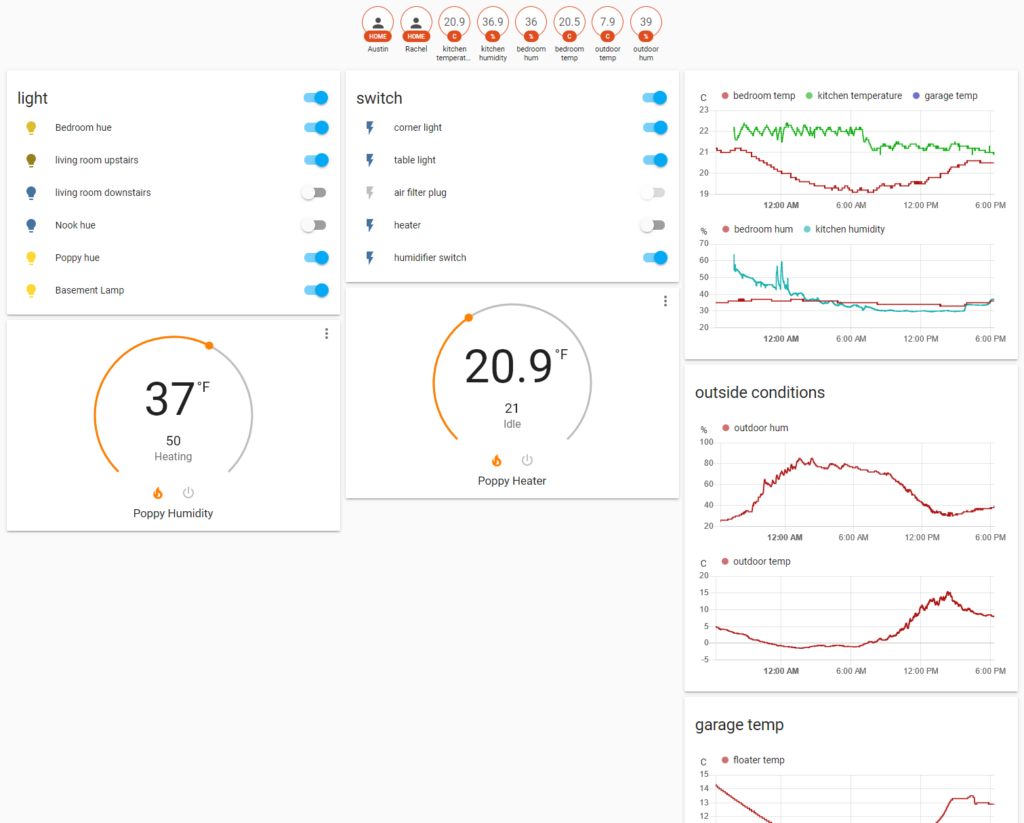 Home Automation sounds scary but isn't
You can start as small as you want. The screenshot above (Home Assistant) home page shows where we've landed after a few hours of configuration and a couple weeks of fine tuning. We have switches for lights, heaters, and humidifiers. We have sliders to set the humidity and temperature for our six month old daughter's nursery. And we also have some graphs showing temperature and humidity for a few spots around the house.
We also have a few simple automations:
Turn on lights 50 minutes before sunset
Turn everything off if everyone leaves the house (device tracking is all local and done by our WiFi controller)
Turn on fan to draw in cool outside air when the temperature is cool enough outside
Thermostat control that regulates temperature in our daughter's nursery
"Thermostat" control that regulates humidity in our daughter's nursery
The rest is just extra data (I like data).
Breaking it down
How we got started with Home Automation
We started with a basic Philips Hue kit with two light bulbs and a bridge (base station you plug into your router). Philips Hue is set up with a easy-to-use app on smartphones. The app is pretty simple and allows for creation of "scenes" where you preset lights to how you want them and you can activate them whenever. At the time (early 2016ish?) the app also featured scheduled scene activation, but we found it wasn't very reliable. Thus I began a quest for a better way to control the lights.
Enter Home Assistant. Home Assistant is an open-source application that is commonly installed on Raspberry Pi which integrates all the smart home things. It has exploded in popularity over the last couple years. From the website, Home Assistant is "[an] open source home automation that puts local control and privacy first. Powered by a worldwide community of tinkerers and DIY enthusiasts. Perfect to run on a Raspberry Pi or a local server."
The local control and privacy aspect speaks to me. You will see in other posts that if there two ways of doing something with one being "connect it to the cloud" and easy vs "do it all locally" and hard, I will always pick the local, hard way to do it.
Anyways, I installed Home Assistant on a Raspberry Pi (similar to Piaware, they make it super easy – flash the install to a SD card and boot. bam, done.), clicked add on the Philips Hue integration, pressed the button on the Hue Bridge, and there were my bulbs in Home Assistant! I now had a method to control them via code or schedules or whatever that wasn't linked to an app. I was hooked.
Adding other smart home devices to Home Assistant
[baby woke up again! to be continued]